Mental Health is Important to Fight Covid Pandemic
Dr Priya R Nair, Consultant Psychiatrist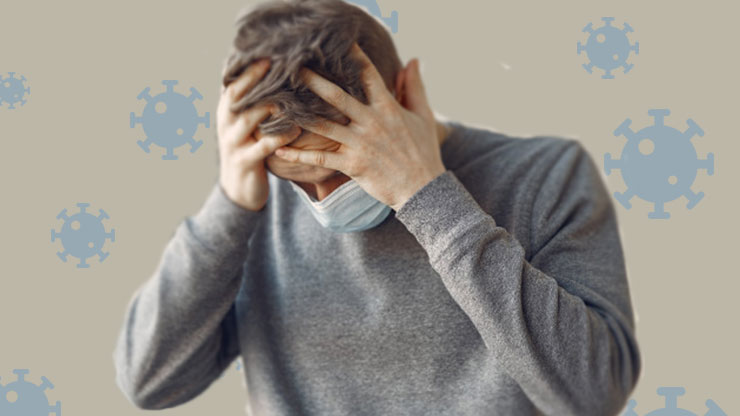 The World Health Organization (WHO) has warned that long after the pandemic COVID-19 has been brought under control, healthcare providers will have to deal with the diverse mental health issues afflicting populations in different countries. People are likely to be battling anxiety, depression, stress, emotional distress, insomnia, disorientation, even personality disorders like obsessive-compulsive disorder and post-traumatic stress disorder for quite a while to come. These mental health issues began emerging almost immediately after the WHO declared COVID-19 a Public Health Emergency of International Concern in January 2020.
A rapid review published in The Lancet in late February during the city-wide quarantines in China in response to the COVID-19 outbreak examined the psychological impact of previous quarantines. The authors reported negative psychological effects including post-traumatic stress symptoms, confusion, and anger. Stressors included longer quarantines, infection fears, frustration, boredom, inadequate supplies, inadequate information, stigma, and financial loss. These predicted consequences have been borne out by many recent studies showing the psychological impact of self-isolation, quarantine, and lockdowns. A recent example from the UK shows that depression has nearly doubled during the pandemic, with almost 20 percent of adults experiencing depression.
Our body's response to any perceived or real threat can result in fear, worry, and stress. It is common for people to experience fear in the context of the pandemic. Adding to the fear of coming in contact with the virus are the drastic changes in the livelihood and lifestyle of every individual. From normal movement to restricted movement in efforts to control the spread of the virus. All over the world people are faced with the new reality of momentary unemployment, working from home, lack of physical contact with friends and family, homeschooling for children, worry about isolation, overburden of healthcare workers, financial distress, uncertainty about the future, rapid changes in schedules and plans. All these fluctuations are further leading to anxiousness, persistent changes in mood, frustration, irritability, exhaustion, fatigue, powerlessness, impatience, confusion, substance use, changes in sleep, changes in appetite, agitation, bereavement, etc.
Some of the ways to ensure your mental well being
Positivity
Children and young people shape their thoughts after their adults and their behaviour and words impact them psychologically. For instance, a young person might become paranoid or experience trauma during the pandemic simply because she/he has been witness to the panic and fear of the adults. Hence, while at home, adults need to use positive physical and verbal language to keep them happy.
Prevent Rumours
Young people are prone to accepting information on face value. Hence, we should not share too many facts and numbers with them especially those related to topics which are beyond their comprehension. We should only share authentic, necessary and as far as possible, positive information with them.
Routine
Even when young people are not going to school or stepping out to play, it is important for them to have a routine. They might feel no urgency to wake up early as there is no school but, adults must emphasize that they should have a schedule comprising of personal hygiene, household, educational and recreational activities throughout the day. Even if the routine be more flexible than a school time-table, it has to be there.
Engagement
Young people are deprived of the opportunity to spend time with their friends. That can lead to feelings of isolation and lack of importance. Adults must make it a point to engage them in conversations, games or activities as far as possible during this period. Give them their space, but ensure that they are not withdrawing into a shell or displaying behaviours which impact their bio-rhythms.
Best Mental Health Counselling Therapy in Nallagandla, Hyderabad
If you are facing Mental Health Counselling Therapy problems, then you meet us, we are experts in Mental Health Counselling Therapy and we are offering the best services of Psychotherapy in Hyderabad. At Neya Psychiatric Clinic, Dr. Priya Nair is a specialist in Mental Health Counselling Therapy, has many years of experience.
Addressing the mental problem at the right time and timely treatment of the problem quickly resolves the problem. Mental problems are very diverse.
We offer time-effective therapy and provide you with the skills and knowledge to achieve the most advanced level of functioning in your daily life. In a supportive environment with trust, we will work as a team to develop a shared understanding of your difficulties and identify how these difficulties affect your thoughts, beliefs, behaviours, feelings and daily functioning.
At the Neya Psychiatric Clinic, we know that state-of-the-art, evidence-based therapy and innovative psychiatry is paramount to your success. That's why we prioritize exceptional personal service along with outstanding clinical treatment and medication management.
Call us to book an Appointment for Mental Health Counselling Therapy at Neya Psychiatric Clinic, our mobile no. Is +91-7780364028, you can also Email us for an appointment. Our email ID is - info@drpriyanair.com, Our Clinic Address is GNT Circle, Nallagandla(V), Serilingampally, Hyderabad, Telangana 500019
Dr Priya R Nair
Consultant Psychiatrist
Neya Psychiatric Clinic
Hyderabad