Depression affects people in different ways and can cause a wide variety of symptoms. They range from lasting feelings of unhappiness and hopelessness, to losing interest in the things you used to enjoy and feeling very tearful. Many people with depression also have symptoms of anxiety. Depression has lots of possible symptoms.
You may notice that someone:
has lost interest in doing things they normally enjoy
seems to be feeling down or hopeless
has slower speech and movements or is more fidgety and restless than usual
feels tired or doesn't have much energy
is overeating or has lost their appetite
is sleeping more than usual or isn't able to sleep
has trouble concentrating on everyday things, such as watching TV or reading the paper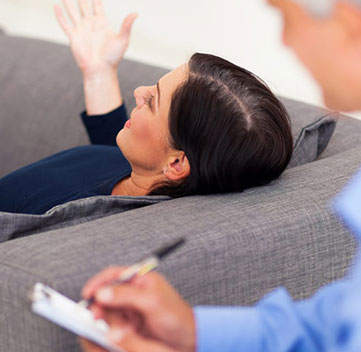 Depression Treatment Services
Lots of people struggle daily with their conditions which affects every area of their life, how they feel personally, their behavior, moods and emotional state and also affects everyone around them from home, work and relationships. We can help improve mental and physical health, so people feel and function much better.
Mental & Physical health issues are actually caused by problems within the body, our bodies become dysregulated over time and this affects how we think, feel and behave, when these areas of dysregulation are improved, it automatically improves how we think, feel and behave. We are able to target these problem areas and re-balance them to help improve how you feel and function. Please see the Research section below for further details
Best Depression Treatment in Hyderabad
If you are facing Depression problems, then you meet us, we are experts in Depression Treatment and we are offering the best services of Depression Treatment in Hyderabad. At Neya Psychiatric Clinic, Dr. Priya Nair is a specialist of Depression Treatment, and has many years of experience.
Addressing the mental problem at the right time and timely treatment of the problem quickly resolves the problem. Mental problems are very diverse.
We offer time-effective therapy and provide you with the skills and knowledge to achieve the most advanced level of functioning in your daily life. In a supportive environment with trust we will work as a team to develop a shared understanding of your difficulties and identify how these difficulties affect your thoughts, beliefs, behaviours, feelings and daily functioning.
At the Neya Psychiatric Clinic, we know that state-of-the-art, evidence-based therapy and innovative psychiatry is paramount to your success. That's why we prioritize exceptional personal service along with outstanding clinical treatment and medication management.
Call us to book an Appointment for Depression Treatment at Neya Psychiatric Clinic, our mobile no. Is +91-7780364028, you can also Email us for an appointment. Our email ID is - info@drpriyanair.com